LONG ISLAND
DATA RECOVERY SERVICES
FREE DIAGNOSTICS
NO DATA, NO CHARGE
on Standard Non-White Room Recoveries
AFFORDABLE NEW YORK DATA RECOVERY SERVICES
Providing Data Recovery, Data Extraction, Whiteroom, Data Disk Recovery throughout Long Island New York
Networks has a long standing reputation as #1 Long Island Data Recovery Service.  We offer you a fast, and cost-effective Long Island data recovery solutions to get your data off your broken hard drives, flash drives, SD cards and more. We are able to extract lost data from Hard Drives including the most popular drive types IDE, SATA, eSATA, SD Cards, Memory Chips, SCSI, RAID array hard drives. We also can recover data from Broken / Formatted Memory Card, Chips, USB Thumb Drives and other Devices that save data.

There are numerous aspects which could add to lost information, whether it was your very own fault or a technical failure such corrupt software or a crashed hard drive. Our Data recovery experts will have the procedures and equipment to ensure recovery. Our staff of Data recovery experts are competent and able to to deal with any recovery project, including computer systems to digital camera operators.
Steps to Recovering Your Data
WHAT TYPES OF SITUATIONS HAVE YOU SEEN WITH YOUR LONG ISLAND, NEW YORK DATA RECOVERY SERVICES?
Through the years our list of data recovery experiences has grown. We've have seen a lot of unique data recovery situations where our Long Island data recovery services are the only option a family or business could have.
Countless families with photos and videos who thought they would be lost forever.
Accountants who have lost all there Quickbooks and clients information.
Teachers who have lost all their lesson plans who needed Long Island data recovery.
Lawyers with important documents that streamlined their business.
Medical office data recovery for our clients who lost all of their medical billing and electronically saved images/xrays/voice recording and more.
Insurance companies getting them back all the clients information, forms and policy information and notes.
Printing companies getting back years of work and saved images that was needed for repeat orders.
Public companies who lost all of the financial information because it was the only server not backed up for the year and needed it back in 24 hours.
Service industries including plumbers and electricians who had all customer information, addresses, credit card information and service contract, dispatch and schedules lost until contacting Networks.
Do not let your loss of an essential file closed down your company or social life. Think about making use Networks we are trustworthy Long Island data-recovery service helping people and businesses gain back and recover lost files. From computer files to memory cards, the majority of our business is data recovery and we can help in the recovery of your lost hard drive data files. 
If you have actually lost crucial or emotional data due to hard drive failure, you require Networks to perform professional data recovery. We are not just a tech company, we have invested $10,000's into equipment and special imaging devices specialized for hard drive crashes. There are many data disk recovery companies to pick from near Long Island but feel free to visit our YouTube Channel or watch some reviews below.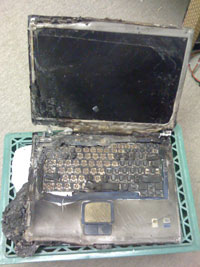 Fire & Water Damaged Laptop
Recovery 98% Successful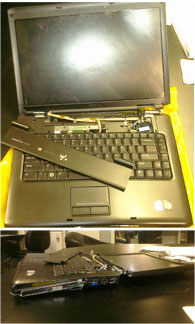 Smashed on Floor by Spouse
Recovery 100% Successful
Excellent, prompt and efficient service. My computers and electronic data were destroyed by Super Storm Hurricane with salt water and mud. My computer software vendor tried hard for 2 days to recover the data but couldn't. They recommended Network Data Recovery Center and Kevin worked hard in the "White Room" to recover all the important data. He did, recovered all the important data and saved my business.
Kevin and the guys got back all my data off my broken external hard drive, including photos and documents, they saved my life 🙂 Thank You.
YOUR HARD DRIVE CRASHED AND OUR DATA RECOVERY SERVICE CAN GET YOUR DATA BACK!
What should you and your company do when everything goes wrong and your important data is no longer accessible? We deal with clients daily that have the stress of data loss due to hardware fault, physical mishap, user error, virus attack or any other reason. For most people entering the data recovery market might be a scary thought but rest assure Networks is the premiere data recovery service for people in and around Long Island. When talking to us just make sure you explain what happened, who has looked at it and what steps have been taken to retrieve the data. The sooner you contact us for Long Island data recovery the better. For a better chance of a successful data recovery we would ask you to not have people/technicians looking at your drive if they are not data recovery experts. Most times these people do more harm then good.
What separates our company from other data recovery companies near Long Island, NY
The data recovery market has become saturated with so called "data recovery specialists"  that are consist of untrained computer technicians. They use basic techniques and use software to attempt your data recovery. In some cases this can work, in other cases when your hardware is physically damaged, this doesn't work. When the hard drive has been chewed up due to a natural disaster, fire, read/write errors, accidental drops or circuit board failure, the users are advised to consult an experienced whiteroom data recovery specialist. Networks has experience getting back files for many reasons including accidental deletion, virus attack, operating system faults, in short, all the logical problems, including data corruption. With our years of experience, we can put you back into your comfort zone.
As the world of technology improves daily, we rely on our Hard Drives not to fail. When catastrophes happen we can get your hard drive data back. We know data on Long Island is always precious and we know how important Data Recovery Services will be for you! Networks By Design's Data Recovery Service, has and will continue to lead the way, for a Cost-Effective Data Recovery solution.
We can backup your recovered data onto another drive or device. There are many reasons to consider recovering your data; if you have deleted a file you needed, hardware and software crash and you need your Log and Configuration files, corrupted data, and so on.
IF YOU WOULD LIKE TO SPEAK WITH A DATA RECOVERY SPECIALIST; CALL US AT 516-889-0777